Our Digital Marketing Services
Internet marketing is more complex than ever. Between evolving search engine algorithms, new advertising capabilities, and a constant stream of data, your business needs a trusted partner to help navigate the digital world. Our internet marketing company offers a full line of services for your website and online branding.
With all the content available on the web today, you need to invest in advertising to get in front of your target…
Do you need content for your website but lack the resources to do it efficiently? Maybe you're not sure…
WTM's social media specialists can help your brand leverage relevant…
Find out if your website is living up to its full potential with a digital marketing audit. Our audits are customized…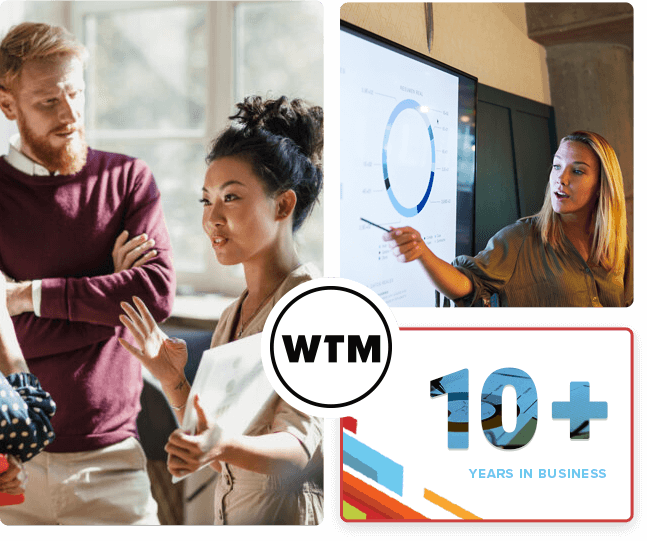 When you work with WTM, you're not just a client; you're a partner. We get to know your company. From your culture to your customers, your unique selling points, goals, and long-term vision, we want to learn every facet of your business. In fact, it's one of our agency's core values to remain curious and always be learning.
Building Value for Our Clients
Increase in Website Traffic
A Team You'll Love
A Culture We Love
Our team has a passion for digital marketing. We are constantly learning and expanding our digital knowledge so we can produce the best results for you. Our core values are what guide our team and decisions. Driven by these values, our company culture seeks to lift up team members and create an atmosphere of appreciation, empathy, and respect.

Objective:Our client was a national producer of custom home goods looking to increase their rankings in Google and other search engines. Their goal was to compete with larger, "big box" stores in the home goods space. Although the client was already seeing healthy...
read more
Conversion rate optimization, or CRO, is simple in theory. Using data, you place conversion points at the right spots on a webpage and watch clicks and conversion rates climb. But in practice, CRO isn't a magic bullet. It's a science that involves evaluating all...
read more
Tom McElheny

Founder and Owner, ChurchPlaza
Web Talent Marketing doesn't blow a lot of smoke or make wild promises. They're aware of the competitive, dog-eat-dog nature of the digital business. The team is dogmatic, thorough, and thinks in the long term.
Read More on Clutch
Thomas Hayden

Vice President of Marketing, National Notary Association
Web Talent Marketing has taken time to understand our business. It's not just about managing the account; they actually help us manage our business.
Read More on Clutch
Mary Green

Communications & Outreach Manager, Beebe Healthcare
We have been with Web Talent for over three years now. They have guided us on all things digital and have done and continue to do an amazing job. I have to admit that a favorite part of my job is working with our Web Talent team!
Phil Rohrer

Digital Marketing Manager, Upstream Rehabilitation
You can trust that the end product will exceed expectations and that you have true experts working on your project.
Read More on Clutch